Lecture
Constructing Heritage in Early Soviet Central Asia
Date

Tuesday 20 February 2018

Time

Location

Room

147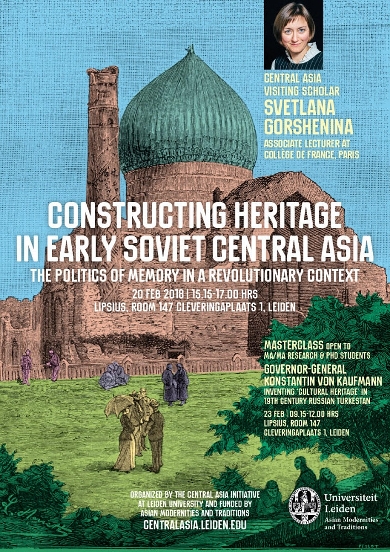 The Politics of Memory in a Revolutionary Context
The lecture analyzes discourses and practices of historical monument preservation in Early Soviet Central Asia. Already at the turn of the twentieth century, Russian activists and scholars engaged in preservation work regarded Turkestan as the main archaeological treasury of the empire. In the sources they analyze, the authors debunk a widely accepted view of the preservation work as a rare venue for apolitical cultural activity of the intelligentsia that tried to disengage itself from ideological service to the regime. Contrary to this view, the Soviet regime in Turkestan made preservation of the ancient Islamic architecture one of its most important instruments of propaganda and population mobilization. In this regard, the regime broadly relied on experts who had been involved with heritage well before the revolution.
The talk compares discourses and practices of monument preservation in the late imperial and early Soviet periods. It studies the influence of broader European debates on "historical heritage" and its reconstruction on local practices. This comparison shows that preservation work was always perceived in the region as part of imperial and then Soviet integrationist projects, and as such provoked multiple conflicts both locally and in the capital. The turning point in the ideological reappraisal of the role of monuments of Islamic architecture came neither with the Revolution of 1917 nor after the official establishment of Soviet power in Turkestan in 1920.
Not until the beginning of the process of national delimitation in Central Asia in 1924 did local interest in cultural preservation gain momentum. Between 1928 and 1931, national committees for monument preservation were established in every newly founded Central Asian republic. This development institutionalized the profound transformation of transnational cultural imagination that had been formed by the early twentieth century into a new, ethnocentric understanding of "culture."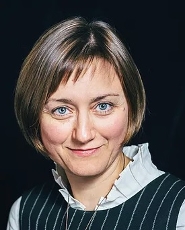 About Svetlana Gorshenina
Svetlana Gorshenina is a historian and art historian of Central Asia, working on Russian Turkestan in the 19th century. She is currently Maître de conferences associée, Chaire d'Histoire et cultures de l'Asie centrale préislamique, Collège de France, Paris. Dr. Gorshenina holds a French Habilitation à diriger des recherches en littératures et civilisations «Pour l'histoire culturelle de l'Asie centrale: 'Faiseurs de patrimoine'» (INALCO, Paris, 2016). She received her second doctoral decree (Doctorat ès Lettres) at the University of Lausanne and at Paris I-Sorbonne University in 2007 and her first PhD in 1996 at the Academy of Sciences of Uzbekistan, Tashkent. Further Dr. Gorshenina worked as a researcher in several scientific groups (CNRS-Paris, University of Lausanne, University of Manchester) and taught in the School of Advanced Studies in the Social Sciences (EHESS, Paris) and at the University of Tashkent.
Books
L'invention de l'Asie centrale. Histoire du concept de la Tartarie à l'Eurasie, Genève: Droz. Collection: Rayon Histoire, n° 4, 2014, 704 p.
Asie centrale. L'invention des frontières et l'héritage russo-soviétique, Paris, cnrs-Éditions, 2012, Collection: Espaces et milieux, 384 p.
Private Collections of Russian Turkestan in the 2nd Half of the 19th and Early 20th Century, ANOR-15 (Institut für Orientalistik, Halle, Mittelasienwissenschaft Humboldt-Universität, Berlin, Université de Lausanne), Berlin: Klaus Schwarz Verlag, 2004, 205 p.
Explorateurs en Asie centrale. Voyageurs et aventuriers de Marco Polo à Ella Maillart, Genève: Olizane, 2003, 544 p.
Galina Pugachenkova: perebiraja zhizni cherepki [Galina Pougatchenkova: slices of life (biography of archaeologist, academician)], Tashkent: Press-Agency, 2000, 250 p.
Les archéologues en Asie centrale: de Kaboul à Samarcande, Paris: Découvertes Gallimard, 2001, n° 411, 160 p. (co-authored with Claude Rapin).
La Haute-Asie telle qu'ils l'ont vue. Explorateurs et scientifiques de 1820 à 1940, Genève: Olizane, 2003, 144 p. (co-authored with Aymon Baud and Philippe Forêt).
La route de Samarcande: l'Asie centrale dans l'objectif des voyageurs d'autrefois, Musée d'ethnographie de Genève, Genève: Olizane, 2000, 260 p.

Philippe Bornet, Svetlana Gorshenina, Orientalismes des marges: Éclairages à partir de l'Inde et de la Russie, Lausanne: Université de Lausanne, numéro spécial d'Études de Lettres, n° 2-3 (vol. 296), 2014, 414 p.
Michel Espagne, Svetlana Gorshenina, Frantz Grenet, Shahin Mustafayev, Claude Rapin (éd.), Asie centrale : transferts culturels le long de la Route de la soie, Paris: Vendémiaire, 2016, 731 p.
Alexandra Galitzine-Loumpet, Svetlana Gorshenina and Claude Rapin (ed.), Archéologie(s) en situation coloniale. Vol. 1: Paradigmes et situations comparées, in Nouvelles de l'archéologie, n° 126, décembre 2011, 64 p.; Vol. 2: Acteurs, institutions, devenirs, in Nouvelles de l'archéologie, n° 128, juin 2012, 64 p.
Svetlana Gorshenina and Sergej Abashin (éd.), Le Turkestan russe: une colonie comme les autres?, Paris: Complexe, Collection de l'IFÉAC - Cahiers d'Asie centrale, n° 17 / 18, 2009, 550 p.