Alumni Event
Alumni meeting in Barcelona
Date

Friday 2 February 2018 - Saturday 3 February 2018

Location

Coco Vail Beer Hall
Carrer d'Arago 284
Barcelona.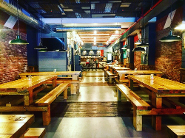 We would like to invite all Leiden alumni in Barcelona and surroundings to the Coco Vail Beer Hall on Carrer d'Arago 284 in Barcelona.
There will be a special guest, Edwin Winkels, who will present his new book Catalonië & Barcelona.
The event is hosted by the Nederlandse Vereniging Barcelona who has invited you all.
It will take place from 19.00 till 1.00am.
Those present between 19.00 and 21.00 will get their first drink for free.
Lander Michel, Alumnus of Leiden University