Series
Material Agency Forum
A lecture series debating (the theory of) world archaeology from an interdisciplinary perspective.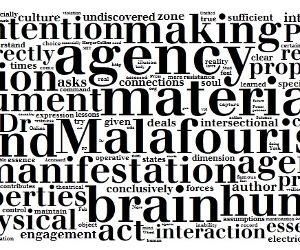 Scholars in fields ranging from political theory and literature to sociology and economics are currently moving away from an understanding of the world centered on people, texts and representations, and instead are moving towards a reconsideration of the ways in which humans and things constitute each other. This "material turn" is, of course, explicitly relevant for the three disciplines that have always been centered around the object, and that now seem to rediscover its agency in cultural historical terms: art history, anthropology and archaeology.
MAF
The Material Agency Forum from Leiden University has grown out of the cooperation in teaching and research of scholars from three different Faculties: Prof. Dr. C.A. van Eck (Humanities), Prof. Dr. P. ter Keurs (Social Sciences) and Dr. M.J. Versluys (Archaeology).
The Material Agency Forum aims at being a podium for research on material agency taking place at Leiden University (and beyond). Rigorously interdisciplinary from the very start and global in scope, the Material Agency Forum wants to bring together scholars from different disciplines working on material agency at Leiden University. By doing so it also aims to critically evaluate (theoretical) debates on Material Culture Studies and to work towards the development of a new paradigm.
Lectures
To this end, each year 4-5 lectures a year will be organized. We will mainly try to present (international) scholars from outside Leiden to discuss the subject from their perspective, but Leiden scholars as well will be invited to discuss their research-in-progress in this domain.

The Material Agency Forum is supported by the Leiden profile area Global Interactions, the Descartes-Huygens award (Prof. Dr. C. A. van Eck) and the VIDI project Cultural innovation in a globalizing society: Egypt in the Roman world (Dr. M.J. Versluys).
Lectures Academic Year 2016-2017