Lecture
China's Global Economic Power: Towards a New Era?
Date

Friday 21 April 2017

Time

Location

Room

228
If Xi Jinping's speech at Davos in January 2017 is anything to go by, we might be entering a new era of international politics; one where China is more prepared to exercise its economic power at the global level, and even attempt to take global leadership on some issues. But while Chinese global power has been spoken about and identified for over two decades now, identifying specific sources of power, and quantifying how much power China has, is not as easy as it might sound. In order to try to assess if we are moving to a new era of Chinese global power, we must do three things. The first is to focus on the changing nature of the global order, and ask what might replace unipolarity? The second is to disaggregate China, and try to identify different potential sources of global power. The third is to consider the way in which China's leaders signal their intentions to utilize these sources of power (or not) to the rest of the world. Add these three together, and there is indeed evidence to suggest some sort of power shift; though a shift that is as much dependent on the "followership" of others as it is on putative Chinese leadership.
Speaker
Shaun Breslin is Professor of Politics and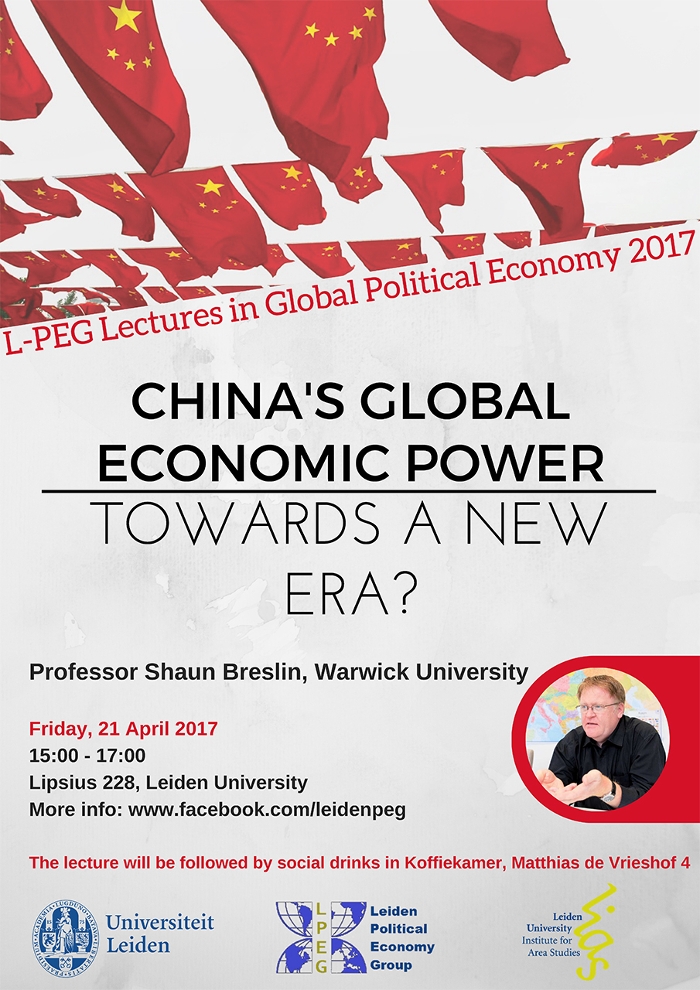 International Studies at the University of Warwick, and co-editor of The Pacific Review. Having first studied in China in 1984, he has spent the last thirty years trying to understand the political economy of contemporary China and China's place in the world. He also has a side interest in comparative studies of regional integration processes. From October 2017 he will hold a Leverhulme Major Research Fellowship that will focus on the linkeages between China's domestic economy, and the nature of China as a Great Power.
For more events and updates about L-PEG, please visit our Facebook page.
For any inquiry, please contact: L-PEG@hum.leidenuniv.nl