Lecture
Book Launch: Ethics of Counterterrorism
Date

Friday 3 March 2017

Time

Location

Location Wijnhaven
Turfmark 99
2511 DP The Hague

Room

3.60
Which actions are ethical?
The terrorist attacks that have been haunting European capitals show us that counterterrorism is necessary and essential in modern day society. The intelligence services and other organisations active in the field of counterterrorism are faced on a daily basis with the question of how extensive and intrusive their actions can be.
What are the limits? Which actions are ethical? And most importantly: how do the professionals themselves deal with these – often complex – dilemmas? In Ethics of Counterterrorism scientists, counterterrorism agents and ethicists reflect on this theme and discuss many urgent questions.
Moderator:
• Edwin Bakker (Scientific Director Institute of Security and Global Affairs (ISGA), Leiden University)

Panel:
• Paul Abels (Deputy Director Analysis and Strategy of the National Coordinator Terrorism and Security)
• Constant Hijzen (Assistant Professor Intelligence studies, ISGA, Leiden University)
• Patrick Overeem (Assistant Professor Political science, Vrije Universiteit Amsterdam)
• Michael Kowalski (Author, editor, guest researcher and PhD candidate ISGA, Leiden University)
You can register here.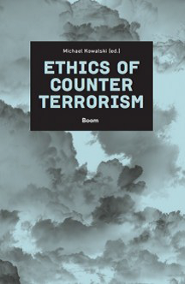 Published by Boom Publishers Amsterdam, 2016 - ISBN9789058755117 - 264 pages