LIACS Business Event on Anomaly Detection
Date

Wednesday 18 January 2017

Time

Location

Room

Klein Auditorium
You are very welcome to the LIACS Business Event 2017 on Wednesday, 18 January 2017 in the heart of Leiden University: the Academy Building.
Theme: Big data and Anomalies - Chasing the unknown
This year we focus on finding anomalies in Big Data: anomaly detection is the identification of events, which do not conform to the common statistical definition of an outlier as a rare object. Typically the anomalous items will translate to some kind of problem such as bank fraude, a structural defect, medical problems or errors in a text.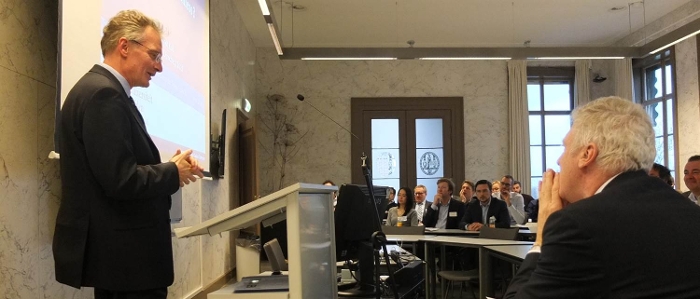 Scientific insights for your business
In addition to executing research and providing computer science education for Bachelor and Master students, the Leiden Institute of Advanced Computer Science is highly committed to support you and your organization in becoming more effective in dealing with data.
By providing you with the latest scientific insights in the domain of data science and with ample opportunity to meet with colleagues and researchers alike, we are convinced the LIACS Business Event is worthwhile participating.
Everybody welcome
The annual business event has emanated from our vision that although data science is a technical discipline, its essence can be applied to any business domain. To make the event accessible for all, we always keep a close eye on balancing science, engineering and business topics. Any new algorithm, insight, method or approach in data science can also be applied to other business sectors. That is how we want to connect with our partners: 'If it works there, it may very well work in my organization.'
Programme
The preliminary programme is as follows:
Big Data - Anomalies - chasing the unknown
| | | |
| --- | --- | --- |
| Start | Title | Speaker |
| 12:30 | Registration & Lunch | |
| 13:00 | Setting the scene - Opening speech | Prof dr Aske plaat, Scientific Director of LIACS |
| 13:15 | The downturn of outliers - End of an era? | Prof dr Thomas Bäck, Professor of Natural Computing at LIACS |
| 13:35 | Outlier detection in car manufacturing | Dr. Sebastian Kreissl, BMW - Germany * |
| 14:00 | Optimizing health services - Defining "Proper Care" | Hans Paalvast, Program Manager "Zinnige Zorg" at National Health Care Institute * |
| 14:25 | Break |   |
| 14:45 | Fighting Fraud in financial services | Dr Wojtek Kowalczyk, Director of Fraud Detection Expertise Center |
| 15:10 | From Standard Deviation to Decision | Mark van den Akker, CEO of Supergraph |
| 15:35 | How to identify criminal behaviour - "Whodunit with data science" | Dr Cor Veenman, Senior Researcher Forensic Data Science at LIACS & NFI |
| 16:00 | Plenary discussion on Big Data and Anomalies - Chasing the unknown | Moderated session |
| 16:25 | Meet, Drink and Connect |   |
| | * to be confirmed | |
Between 12:30 - 13:00 a simple lunch will be provided.
Location
The LIACS Business Event 2017 will take place on Wednesday January 18, 2017 in the Academy Building, Rapenburg 73, Leiden.
If you travel by car
If you travel to the Academy Building by car, please be aware there is limited parking space in the area. The city center only provides paid parking. Alternatively you can park either at the Haagweg, from where a shuttle bus can take you to The Academy Building. Or at public parking place at the Garenmarkt, from where it is an 8- minute walk.
Register now
Participation in this Annual LIACS Business Event is free of charge, but since there are only a limited number of places available, registration is required. If you are interested to join, please register. If you have any questions, please do not hesitate to contact Jeroen van der Leijé or Tjitske Visscher. Alternatively you can send an email to: events@liacs.leidenuniv.nl.
We are looking forward to meeting you on January 18th in Leiden.