Conference
International Tolkien Conference: Tolkien among Scholars
Date

Saturday 18 June 2016

Time

Location

Room

0.19
On Saturday, the 18th of June, 2016, an international Tolkien conference will take place in Leiden, jointly organised by Thijs Porck (LUCAS) and the Dutch Tolkien Society Unquendor. The conference will consider the place of J. R. R. Tolkien (1892-1973) within the academic world, both as a scholar himself and as the author of fictional works of fantasy that have been the subject of scholarly enquiry since their publication.
The conference is open to the interested public, but prior registration and an entry fee of 5 EUR is required.
7th Unquendor Lustrum Conference: Tolkien among Scholars
While J.R.R. Tolkien is best known as the author of The Hobbit (1937) and The Lord of the Rings (1954–1955), his day job was university professor at the University of Oxford, where he lectured mostly on Old English language and literature. Some of his academic publications, notably his work on Beowulf, have been described as ground-breaking and are still cited today. Tolkien's scholarly work has also left its traces in his fiction, which was heavily influenced by his academic interests and shows the great debt that Tolkien owed to the medieval languages and literatures he studied.
On 18 June, 2016, a group of international speakers, hailing from such diverse countries as England, the Netherlands, Italy, Sri Lanka, Poland, France, the United States of America and Germany, will come to Leiden and present their new research on Tolkien's place within academia. What impact did Tolkien have as an academic? How was Tolkien's Middle-earth influenced by his academic interests? How have Tolkien and his fictional work been regarded and studied by scholars, both past and present?
The conference is part of the festivities of the 7th Lustrum of the Dutch Tolkien Society Unquendor 'Unlocking Tolkien' (17-19 June 2016).
Programme
The conference starts with a keynote lecture by prof. dr. Paul J. Smith (Leiden University) entitled "French Connections in Middle Earth", which discusses the presence of French language and literature in Tolkien's fictional narratives. What follows are fifteen presentations in parallels sessions. The topics of these presentations range from the cosmology of Middle-Earth to the influences on Tolkien from the Old Norse Poetic Edda, the Finnish Kalevala and various Anglo-Saxon sources, and discuss various aspects, such as hospitality, anarchy, philology and mythology.
The conference concludes with its second keynote lecture "Heroic Scholars - Scholarly Heroes" by the renowned Tolkien scholar prof. dr. Thomas M. Honegger (Friedrich Schiller University, Jena). Honegger will explore how Tolkien's scholarly work on medieval texts as well as his writing of fiction both reflect his preoccupation with questions of heroism and the legitimisation of heroic violence.
Teaching Tolkien
Thijs Porck (LUCAS) co-organises the conference, along with the Dutch Tolkien Society Unquendor. Like Tolkien, Porck teaches courses in Old English language and literature, at the English Department in Leiden. Porck: "Old English was the language spoken in early medieval England and many students are surprised that they already know some Old English words, because they have read Tolkien's fictional work. Words like orc, ent and warg, as well as names such as Theoden and Saruman, all have their roots in Old English. Scenes from the Old English poem Beowulf also show up in The Hobbit and The Lord of the Rings, such as the confrontation with Smaug the dragon."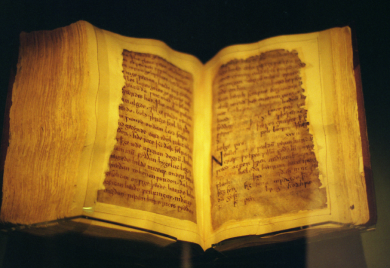 Currently, Porck also teaches an MA-course on Tolkien, as part of the Masterlanguage programme for English. The course, entitled "Middle-earth and middangeard: J. R. R. Tolkien and the Anglo-Saxon World", explores Tolkien's academic publications on the field of Old English, particularly the poem Beowulf, both in their own right and in relation to his fictional world. Porck: "Reading Tolkien's academic work will first of all provide students with a better insight into the culture, language and literature of early medieval England. At the same time, it will also illuminate their reading of Tolkien's fantasy fiction. At the end of the course, the students with the best papers will get the chance to present their findings at the conference in Leiden on 18 June, 2016."