Debate
The referendum on the Ukraine-EU association agreement: What is it really about?
Date

Monday 4 April 2016

Time

Location

Room

1.A20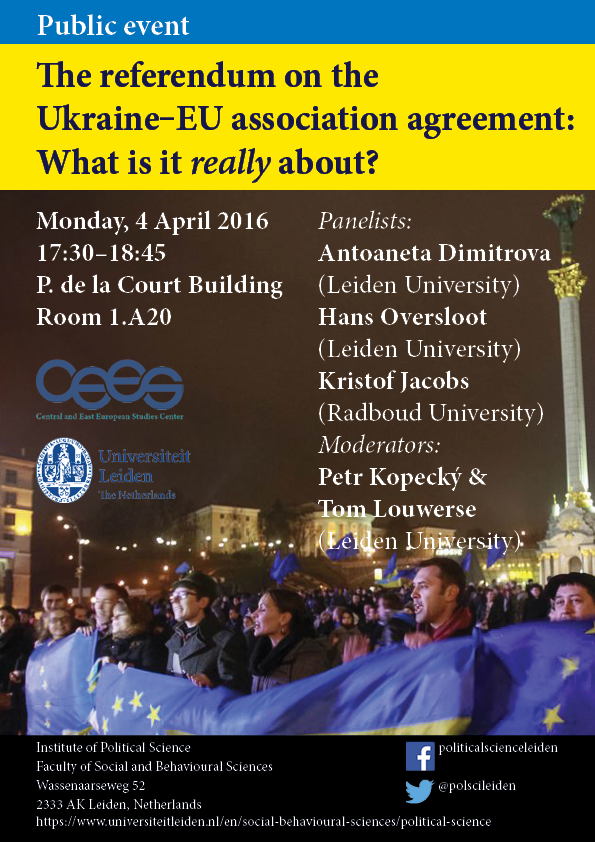 On the 6th of April Dutch citizens can vote on the Ukraine-EU association agreement. As the official question concerns a rather technical international agreement, many people ask what the referendum is truly about. From an international relations perspective, one might ask how the treaty relates to the geo-political position of Ukraine. Will it put Ukraine firmly in the 'European' camp or will the treaty only serve to increase tensions with Russia? From the perspective of democratization, one might ask how the agreement might impact upon democracy and corruption in Ukraine. And how do questions of international political economy come into play: will the agreement foster trade and how important is this to the EU and Ukraine?
Nationally, this is the first use of the instrument of a non-binding corrective referendum. What do people base their vote on: the specific question at hand, or broader concerns about enlargement and expansion of the European Union? Or general feelings towards the government or the political establishment? A panel of experts will discuss the relevance of the 'Ukraine referendum' from these various perspectives. There will be ample opportunity of audience questions and discussion.