Parties, Parliaments and Democracy (MSc)
Programme structure
In this programme, you will follow a core course and thesis seminar on democracy and representation, as well as elective seminars. Furthermore, you will work on your academic and professional skills, as well as acquaint yourself with the state-of-the-art in Political Science.
State-of-the-art in Political Science, academic and professional skills
Furthermore, you will work on your academic and professional skills, as well as acquaint yourself with the state-of-the-art in Political Science. The elective seminars cover almost all political science subdisciplines, so you can focus your education on the topics most relevant to you. Under certain conditions, doing an internship is an option. A research thesis, covering a topic of your choice, and written under personal supervision of our academic staff, completes the programme.
Core courses
Democracy, Political Parties and the Challenges of Representation (10 EC). This course concentrates on the role and function of political parties in modern (European) democracies. We will pay attention to the historical development of political parties, their role during democratic transitions, and their contribution to democratic legitimacy. For that purpose, we will look into the causes and consequences of the changing societal structures underpinning contemporary party systems, the emergence of populist anti-establishment parties, as well as the development of alternative forms of political mobilisation.
Thesis Seminar (20 EC). Deepen your understanding of theories and methods related to research on your specific subfield of Political Science. Apply them to your specific topic as part of your master thesis.
Other courses
Great Debates in Political Science (5 EC). Read seminal Political Science texts and familiarise yourself with the—often opposing—views of leading scholars. Discover how their ideas and approaches have inspired other researchers and discuss these with your fellow students and lecturer.
Methods in Political Science (5 EC). Develop compelling research questions, devise sound schemes for conducting the research necessary to answer those questions, and, ultimately, follow through with the research itself.
Elective seminars, such as Crisis Management, Governance of Human Security, Political Communication and Media Effects, States, Citizens and Migrants, Contestation of International Authority, Elections in Emerging Democracies, Peaceful and Violent Strategies to Secession and Independent Statehood, Human Rights Challenges posed by Global Transformations, Russia and the World, Civilians in Conflict, Violence and Peace in the Age of Social Media, or Algorithmic Security Politics.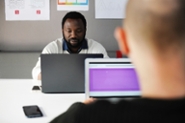 Internship
The structure of the programme allows for an internship in the period early January to the end of March, followed up by taking part in the Internship Research Project Seminar. In this seminar, you will complete your thesis based on the research you conducted during your internship. The institute's internship coordinator will facilitate placement, but the responsibility to find an organisation lies with the individual student. The organisation must allow and facilitate the student to implement a research project relevant to the organisation or its activities.
Please note that a fixed number of students will be allowed to conduct research on the basis of an internship. This is because the Institute of Political Science wants to offer students full support and guidance during and after the internship. The internship is subject to approval by the Institute. Among several other criteria, the academic level of the internship will play a key role in the decision process.