International Relations and Organisations (BSc)
Application deadlines
Because admission to the BSc Political Science: International Relations and Organisations involves a selection and placement procedure, you need to take into account that the application deadline is both early and very strict: mid January of the calendar year in which you intend to start. And after applying, there are some more deadlines that you will need to take into account.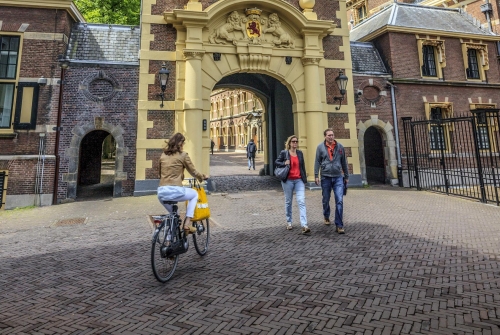 Sorry, applications for the coming academic year (starting in September 2023) are closed.
As of 1 October 2023 you can register for 2024-2025.
The procedures and deadlines mentioned below were valid for applications for the academic year 2023-2024.
In Spring 2023 we will update this section.
Deadlines selection and placement procedure
Your application in the national registration system Studielink for the 2023-2024 academic year, must be completed by 15 January 2023 23.59 hours CET. If you need to apply for admission make sure you initiate your application in Studielink at least a week before the application deadline.
After this first step you will be sent log-in details for our online application portal (uSis) where you can apply for admission. This can take a couple of days. So please take this into consideration when planning your application and don't wait till the last minute. Applying last-minute means extra stress and risking missed deadlines in the selection and placement procedure.
Should want to participate in the special colloquium doctum admission procedure, you need to take into account an even earlier deadline: 1 November 2022.
Please make sure to reserve some time; so that you will be able to meet the strict deadline for submitting your letter: from 1 February 2023 to 8 February 2023, 23:59 CET.
You will receive the instructions for the motivation letter per e-mail, on 1 February 2023, around 18:00 CET.
Another important deadline you should keep in mind is the time frame for doing the online assessment: this can only be done online, from 17 February 2023, 13:00 CET to 18 February 2023, 13:00 CET.
You will receive the instructions for the assessment per e-mail, on 1 February 2023, around 18:00 CET.
The final deadline for you to take into account is the one for accepting your place. Whether you will be offered a place immediately, or if you will be put on the waiting list, depends on your ranking number. You will be notified of your number by e-mail on 15 April 2023.
When you are offered a place on the programme, you have two weeks to accept. Places that are not accepted in time, are offered to the next candidate on the ranking. This 'transfer' of offered places continues until September 2023.
It is difficult to predict the number and pace of these transfers, but we will try to keep you updated. Please refer to this page for a further explanation and the latest available figures:
Details about applying, the motivation letter, online assessment and accepting offered places are provided here:
Apply early!
If you don't have a Dutch diploma that grants direct admission, you'll have to complete a two-part application procedure:
First register your application(s) in the national system Studielink.

A day later you will receive log-in details for Leiden University's application system (uSis), where you can complete your application.
You must submit your application via Leiden University's application system (uSis), before the deadlines mentioned above. So don't delay; if you haven't registered in Studielink and activated your uSis account in time to apply by the deadline, you'll miss out!
Other deadlines
Leiden University reserves a limited number of rooms each year for international students. However, as the number of housing requests always greatly exceeds the number of rooms available, we strongly recommend that you also look into other housing options at the same time. Read more about how and when to arrange housing. If you want to request accommodation via Leiden University, submit both your application for admission and your housing request well before the deadlines! Accommodation is offered on a first-come first-served basis and is not guaranteed. You don't have to await admission before requesting housing.
If you want to apply for a scholarship, grant or loan, please bear in mind that different deadlines apply, and these deadlines can often be earlier. Deadlines vary per scholarship. Visit the scholarship website for more details.