Liberal Arts and Sciences: Global Challenges (BA/BSc)
Student for a Day
If you are looking for the real LUC experience we encourage you to join our Student for a Day! To all students in their final years of high school (6th and 5th year of the Dutch VWO programmes at a similar level) we offer the Student for a Day experience.
This is your opportunity to participate in classes, experience the College Building and Campus and perhaps even join in on some extracurricular activities. When you register for the Student for a Day experience we will match you with one of our students based on the major you are interested in.
Quotes from previous Students for a Day
'The student ambassadors were really open and friendly and the classes were stimulating and eye opening. The students also took me around town to show me what living here would be like. I really liked how casual and candid it was. Thank you for offering and organising such an experience!' -

Dennis, Hong Kong

'A great opportunity to experience LUC The Hague in the flesh. Informative and helpful.'
'I really appreciate the opportunity to participate and experience what it is like to be a student for a day. Highly recommended for the following years! Thank you LUC!'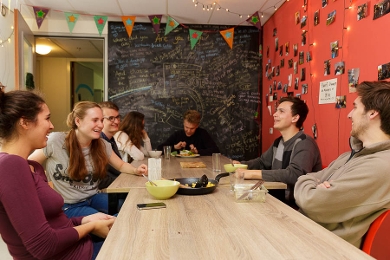 Registration
Due to a high demand to come for Student for a Day a prerequisite for is to have started your application for LUC or visited an LUC Open Day/ Evening prior to registering. Prospective students can register for any weekday (with the exception of Wednesdays) during:
Please note you can ONLY sign up between the dates listed below
| BLOCK | DATES |
| --- | --- |
| Block 3 | 10 February 2020 - 13 March 2020 |
| Block 4 | 13 April 2020 - 15 May 2020 |

Student for a Day Registration Form
You can register for Student for a Day by filling out the following forms:

Please note that you need to register at least one week prior to the date you wish to attend.
We schedule appointments on a first come first serve basis.
Contact
If you have questions please do not hesitate to contact us via communication@luc.leidenuniv.nl.
Feel free to take a look at more pictures of the open days and life at LUC in one of our Facebook albums.
We are looking forward to welcoming you to LUC The Hague!