Arts and leisure - Dance
Releasing tension by dancing with balls | English spoken
Friday 23 April from 19:00-21:00 h
Teacher

Natalie Heller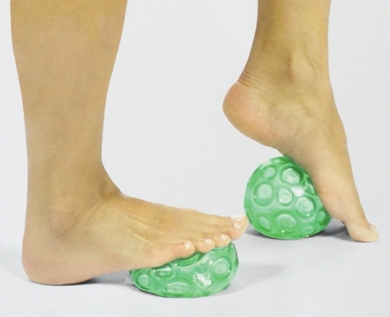 For whom
All levels.

Content
Learn to use Franklin balls to tone and massage the body.
We will work on releasing the psoas muscle (which tightens up when seated for extended periods). We will learn rolling techniques, compression and pressure points to release muscular tension. You can expect to use your feet a lot in this workshop and experience a strong sense of full-body release afterwards.

For this workshop you need a pair of soft inflatable balls size 10 cm. This can be Franklin balls, or another brand.
If you do not yet own a set you can order them online or if you live in Leiden/ Voorschoten we can arrange pick up.

Teacher
Natalie Heller is a choreographer and dance artist. She has an MA in 'Creative Practice' from Trinity Laban and professional training from Dance New Amsterdam (NYC), Movement Research (NYC), Siobhan Davies Studios (London) and Ecole Supérieure de l'Enseignement de la Danse (Montpellier, France). She is interested in body awareness and in helping her students develop energy efficient movement pathways. It was on her exploration of different movement methodologies that she discovered Ashtanga Yoga, Pilates, Thai massage, Body Mind Centering, Contact Improvisation, Alexander Technique, Skinner Releasing, Feldenkrais, Klein Technique and many others. She has been taking movement workshops for over twenty years and has been trained by key players in the field (including Gill Clarke, KJ, Holmes, Malcolm Manning, Eva Karczag and many others). She has been teaching movement techniques since 2006.
More about Natalie: www.natalieheller.com and www.practicingsomatics.com
Please contact info@lakcursussen.nl if you have troubles registering for the courses. You can also give us a call at 071 527 2317 | 527 2314
Through registering you are agreeing to the terms and conditions of the LAK.