Arts and leisure - Dance
Hilal Dance: Arabo-Andalusian
Saturday the 1st of February 2020 from 14:00-17:00 h
Teacher

Laura de Gaspari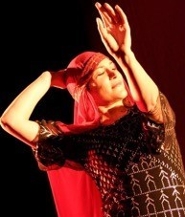 For whom
Alle levels welcome

Content
Hilal Dance is a contemporary dance form based on the creative, theatrical and educational work of Suraya Hilal. The dance is founded on a complete and holistic system of movement that resonates on many levels and traverses cultural boundaries. Its roots lie in the integration of eastern and western elements, intrinsically merged to produce a coherent and universal language. The dance uses the body's natural dynamics that work with gravity, shifting the weight and harnessing the energy, promoting connectivity with lyrical and dramatic expression.
In this workshop, we will use the Hilal Dance language system on a contemporary piece (Laytana) with an Andalusian heritage and composed by renowned Middle Eastern musical ensemble: trio Joubran.
The Ensemble is composed of musicians whose mother was a singer of Muwashahat , poems originated in Arab Spain.

More info about Hilal Dance: hilaldance.com

Teacher
Laura discovered Egyptian dance in London in 1986 and became a dancer in Suraya Hilal's touring Company with dancers and musicians in the years 1990/1992.
Since then Laura has been teaching and performing, researching on this dance and developing projects of her own in dance schools and cultural centres.
Since 2016 she has been committing herself to the study of Hilal dance.
For Laura , Hilal dance embraces tradition and modernity in a unique way that opens endless creative possibilities. As a dancer, it allows her to express the power and beauty of tradition in its essential form and at the same time, it offers tools to stretch the dance beyond.
In addition, Laura is following a teacher education in Do In Yoga.
lauradegaspari.com

Interview Suraya Hilal: https://www.youtube.com/watch?v=FbsNRjpRpmE

Please contact info@lakcursussen.nl if you have troubles registering for the courses. You can also give us a call at 071 527 2317 | 527 2314
Through registering you are agreeing to the terms and conditions of the LAK.