Arts and leisure - Visual arts
Outdoor drawing between industrial heritage in the Singelpark
Wednesday from 10:00-12:30 h
Teacher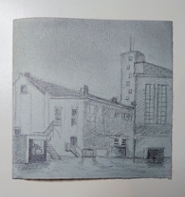 For whom
Drawing from perception, for beginners and advanced.

Content
After an instruction, everyone will search for a topic in the environment. During the lessons composition, perspective, shading and use of materials are discussed.
We search for exciting compositions where there is a contrast between nature and architecture, and/or light and dark, depth and the flat surface.
Whether you are a beginner or advanced, it is an exciting adventure to draw. You will notice that you will look differently at the environment.

The LAK supplies the material that the course participants can keep with them during the course.
Classes are held in small groups. The lessons start and end at the former Watergasfabriek, Papegaaisbolwerk 18-20, located at the Singelpark (toilet available).

Teacher
Iemke van Dijk graduated at the Free Academy of The Hague and the Academy St. Joost of Breda. She's been working as an artist and teacher since 1994. Iemke is fascinated by the difference between watching and seeing and the discoveries you make when you become aware of this difference.
She is co-founder of EST art foundation.
Isn't the registration link working? Please contact the LAK via info@lakcursussen.nl or tel: 071 - 5272314 | 5272317
Anyone who registers for a LAK course, thereby agrees to the LAK term and conditions.