Arts and leisure - Visual arts
Cyanotype (making blue prints)
Thursday from 19:30-22:00 h (course dates: April 9, 16 & 23 | May 7, 14 & 28)
Teacher

Janet Keukelaar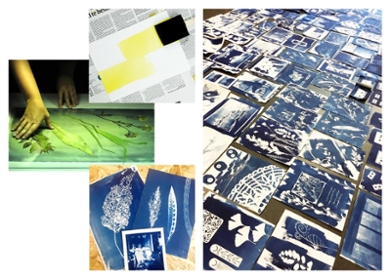 For whom
Beginners and advanced students, but especially for the curious and explorers!

Content
Cyanotype (making blue prints) is one of the first photographic techniques and was discovered in 1842. By the use of two photographic chemicals you'll learn to make watercolor paper photo sensitive. In fact, we transform watercolor paper into old-fashioned paper, which results in beautiful Prussian blue prints.

During the course you will learn about the chemical background of the process and all of its features. It's surprisingly approachable; blueprints can be made of objects, pictures, drawings and photo's.

After you've tried all options during the course and have learned all the tips and tricks, you can continue at home, because you don't need darkroom!

Teacher
Janet Keukelaar graduated in 2003 as Master of Applied Arts at the Art Academy Post St. Joost in Breda.She's the owner of Galerie PAR (http://www.print-art-read.nl/) in Leiden, where she focuses on modern art and old photographic techniques.
Isn't the registration link working? Please contact the LAK via info@lakcursussen.nl or tel: 071 - 5272314 | 5272317
Anyone who registers for a LAK course, thereby agrees to the LAK term and conditions.