Arts and leisure - Visual arts
Botanic illustration (every other week) | Dutch spoken
Fridays from 09:30-12:30 h | Start 4 weeks later than originally planned!
Teacher

Mathea Westerveld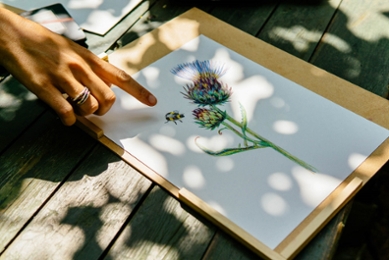 Physical lesson dates: March 11 & 25, April 8 & 29 (4 lessons)
This course is given in Dutch. The teacher can explain individually in English.
For whom
For all who want to learn botanical illustrating.
Beginners and advanced: because there is a lot of room in these lessons for individual guidance, there is room for different levels. Minimum age: 17 years.
Content
In this course of 4 x 3 hours you will be surprised by the beautiful plants in the Hortus* and you will learn to draw from observation.
During the lessons we do various drawing exercises in which you will portray the unique shapes of your plants. You learn to work with shadows and to draw the correct proportions. You will also learn more about your unique handwriting and learn to draw more confidently.
Each lesson focuses on a different theme, in the last two lessons you work on your own Botanical Illustration.
Lesson 1: Drawing from observation: different drawing exercises are central
Lesson 2: Texture and Shadow: We focus on the use of shadows by creating fine hatches (lines and dots)
Lesson 3: Shape and Watercolor: you learn to draw powerful shapes and you learn to take revenge with watercolor
Lesson 4: Working on a Botanical Illustration + presentation
Practical
This course takes place every two weeks, of which 5 x physically at the LAK. The next week you will work at home with your homework.
In the week that you do not have a physical lesson, there is a feedback option by sending a photo of the work made by mail or whats app. The teacher will provide short feedback to help you move on to the next lesson.
Homework: min: 1-2 hours
Things you need to do homework at home:
- gray pencil, brushes, sturdy paper, watercolor paint, fineliner
* If the weather permits and access is possible, we will visit the Hortus for a number of classes. Access to the Hortus is not included in the course price.
LEI students, museum card holders and Friends of the Hortus have free admission.
LEI employees pay € 2.50, others pay € 8 per visit.
Teacher
Mathea Westerveld graduated (2006) as a teacher of Visual Arts at Artez University of the Arts, Arnhem. In 2017 she founded her own company: Lieverlee- Illustrations and Creative Discovery Tours. Under this name she illustrates commissioned, and gives workshops and drawing and botanical illustrating courses. More info: www.lieverlee.com

Isn't the registration link working? Please contact the LAK via info@lakcursussen.nl or tel: 071 - 5272317
Anyone who registers for a LAK course, thereby agrees to the LAK terms and conditions