Arts and leisure - Theater and presentation
Dance Theatre intermediate/advanced
Thursday from 17:30-19:00 h
Teacher

Jamie de Groot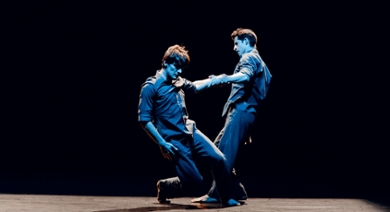 For whom
For everyone who wants to combine theater with dance. For people with dance and/or theatre experience.

Content
Our body language, emotions and behaviour are powerful sources of expression and tell a lot about our inner world as human beings.
In this course we go to the core of these sources to be able to act through dance.
How do you express a feeling or a conflict on stage?
We start with simple improvisation tasks and fun exercizes with theatre towards small scenes.
We develop and expand the body language out of the scenes towards more danceable movements.
In the end we connect all the parts so we have a nice small performance to show!
It's going to be fun!
Teacher
Jamie graduated in 2014 with a bachelor of dance and theater at the Amsterdam School of the arts. He worked with Club Guy & Roni, GRIP | Jan Martens, SALLY's dansgezelschap and did several productions at the National Opera.
After his graduation he started making his own dance pieces and soundtracks for his dance company 'The Kitchen' and performed already 210 performances throughout whole Holland. He creates interdisciplinary cinematic dance performances with a clear story line. He researches how human theatrical emotions, music and dynamic rhythmical dance can let the audience be drowned in a new world, as if you watch a movie on stage.
Isn't the registration link working? Please contact the LAK via info@lakcursussen.nl or tel: 071 - 5272314 | 5272317
Anyone who registers for a LAK course, thereby agrees to the LAK terms and conditions.