Arts and leisure - Music
World music series: Mediterranean and African Songs
Wednesday from 16:45-18:00 h
Teacher

Aleksandra Popovska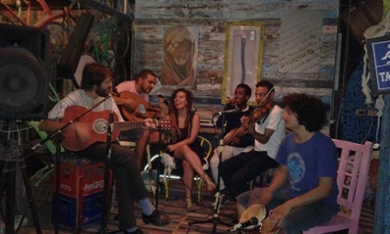 For whom
All levels welcome.

Content
In this course, students will have a chance to learn a mix of classical and folk songs from the Mediterranean region ( Italia, Spain, Greece, France, Turkey, North Africa, etc). Expect Sephardic love songs, Andalusian lullabies, African work songs, and Moroccan folk melodies, with one word making a joyful celebration of this musically rich region and honoring this rich musical traditions of the world by singing together, creating unique encounters among international students, making connections and bridges between cultures, periods, styles and people.
Teacher
Aleksandra Popovska's career spans two decades and several countries; she is known internationally as a singer, voice teacher, composer, and community choir leader. Her work has taken her to over fifteen countries collaborating and inspiring many students and artists. She was trained in various music disciplines (voice, a composition for media, music education, and music production) in The Netherlands, UK and Macedonia.
She had more than a hundred performances on various podia around the world (to name a few: Rotterdam Opera Festival, Neuköllner Oper-Berlin, Macedonian National Opera & Ballet, etc.).
Aleksandra participated in recordings of over fifteen CDs in different music genres.
Aleksandra is a member of the Dutch Asociation of vocal pedagogues and Dutch Asociation of composers.

Is the registration link not working? Please contact the LAK via info@lakcursussen.nl or tel: 071 - 5272314 | 5272317
Anyone who registers for a LAK course, thereby agrees to the LAK terms and conditions

Register on time! A course can only start with enough participants (this will be decided a week before the start).