Arts and leisure - Music
Singing in small groups (online) | all levels
Monday from 14:45-15:45 h.
Teacher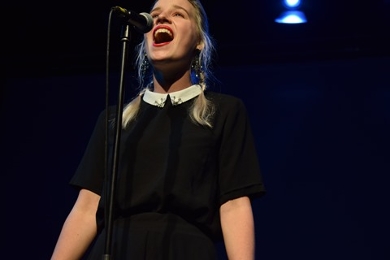 For whom
For anyone who wants to develop his or her singing voice (max. 3 people per group), all levels.

Content
In these lessons you will learn about singing technique in general and about your own voice in particular. In the lesson, we use Complete Vocal Technique.
The lesson starts with a joint warm-up. Then each student has time to work on a song of their choice. Together with the teacher you set your own goals and you receive feedback.
It examines aspects such as breathing, relaxation and dynamics, as well as timing and text interpretation.
Working in small groups of three people creates a safe environment in which you can try out everything with your voice.
Moreover, it is a lot of fun and educational to listen to your fellow students.
For this course you need a stable internet connection and ZOOM. In addition, possibly an accompaniment track that you can find via Youtube or Spotify. You will receive an email with instructions in advance.

Feedback from a participant: 'I did the singing lessons for each level in small groups. (max 3 persons) For me it was the first time ever that I took singing lessons and I was really amazed by the quick effect you can achieve. The online class worked very well, the teacher was able to give good personal advice based on observations and looking. I felt there was plenty of room to ask. It's also nice that no specific 'style' or basic level was needed. Even if the other student was busy, you could also practice with the online possibilities, perhaps even more than live, an additional advantage. All in all, I learned a lot with great pleasure and followed without any significant technical problems. Recommended!'
Teacher
Evelien Storm graduated in 2012 as a jazz singer and singing teacher at the Conservatory in Groningen. She's specialized in Complete Vocal Technique . At this moment Evelien works as a singing coach , gives private lessons and workshops and works with choirs. She sings in several bands and writes songs which content a mix of jazz , pop and Brazilian music.
Is the registration link not working? Please contact the LAK via info@lakcursussen.nl or tel: 071 - 5272317
Anyone who registers for a LAK course, thereby agrees to the LAK term and conditions.