Arts and leisure - Music
Singing in small groups - weekly | no early bird discount
Wednesday from 17:00-18:00h (no class on April 29)
Teacher

Mirre Valkenburg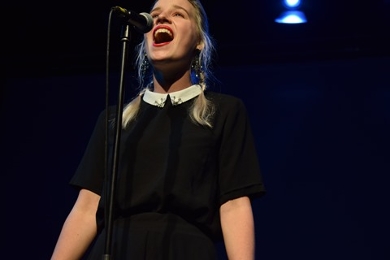 For whom
For everyone who wants to improve their singing techniques (group of max 3 persons).

Content
In these lessons you will learn about singing technique in general and about your own voice in particular.
The lesson includes the Lichtenberger method and Universal Voice.
In the lessons you listen to fellow students and sing a song of your own choosing.
You set your own goals together with the teacher and you receive feedback.
Aspects such as breathing, resonance and relaxation, but also timing, text interpretation and presentation are discussed.

Working in small groups of three people creates a safe environment where you can try everything with your voice. Moreover, it is very educational!
Teacher
During her studies at Codarts, Conservatory of Rotterdam, Mirre Valkenburg (1983) focused on various South American music styles. These come together in the performances she gives, especially in a duo with guitar. After the conservatory, she took lessons and workshops in the Lichtenberger method for a number of years. With great enthusiasm, Mirre gives singing lessons to people of different ages, levels and musical interests, conducts a pop choir and gives workshops at primary schools, secondary schools and in higher vocational education.
Is the registration link not working? Please contact the LAK via info@lakcursussen.nl or tel: 071 - 5272314 | 5272317
Anyone who registers for a LAK course, thereby agrees to the LAK term and conditions.