Arts and leisure - Music
Group Lessons of Music Composition
Tuesday from 20:00-21:30 h | Start date postponed to 7 March
Teacher

Sara Zamboni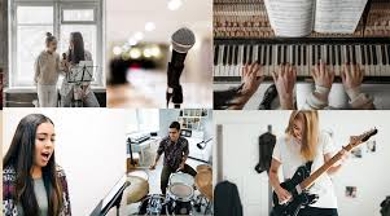 For whom
Does music have a special place in your heart? Are you curious about how music is created from scratch? Do you play an instrument and/or enjoy making your original musical material? Are you a volcano of musical thoughts but struggling to find a way to organize them? Would you like to discuss your ideas & aesthetics in an open, respectful, and creative environment? Or perhaps just being inspired? Then this course is for you!
(minimum age: 18 y)

Content
This composition course organized in group lessons is open to anyone interested in music. Playing an instrument or being able to read a score are not necessary. Students will be exposed to some repertoire but also free to bring their favorite songs, open a discussion and ask for constructive feedback. Particular attention is paid to sound as a plastic material with infinite possibilities and as the primary building block of any musical form or genre. Music is a non-verbal form of communication but talking about music is a powerful tool, especially if the students are interested also in other media and forms of narrativity. Music is everywhere in our society and has many different functions: everyone can contribute.
(max 10 students)

Teacher
Sara Zamboni (Italy, 1990) is an academically trained composer of contemporary music, classical pianist and creative coach based in The Netherlands. Her composition projects encompass instrumental works, electronic music and combinations for various destinations, privileging music for live performances in theatres and concert halls. She is mostly interested in chamber music, contemporary music theatre, music for dance choreography & movement research. She is a member of Nieuw Geneco, the professional association of Dutch composers.
In 2020 she created Cytokine Records, her independent record label for experimental electronic music. The online releases are made with love for whoever has time, curiosity, and desire to listen.
Is the registration link not working? Please contact the LAK via info@lakcursussen.nl or tel: 071 - 5272314 | 5272317
Anyone who registers for a LAK course, thereby agrees to the LAK terms and conditions.

Register on time! A course can only start with enough participants (this will be decided a week before the start).