Arts and leisure - Dance
Movement of Reading and Dreams | English spoken
Friday from 18:00-19:30h
Teacher

Emilie Gallier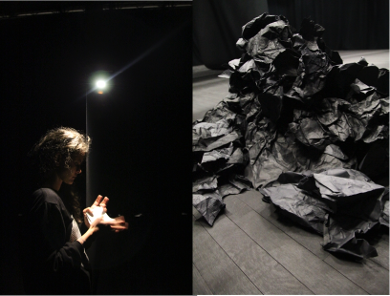 For whom
Experience of dance is very welcome but not required, you might come from a different field. If you need more detailed information please contactemilie
Content
How does reading move us? These sessions will concentrate on movements of reading, i.e. the often invisible movements generated while reading. We will cultivate the tiny movements (of perception, of thoughts, of imagination) and give them the chance to grow, spread, and expand to the other; in search for new realities collectively composed.
The sessions will comprehend:
- The study of the reading-movement and of the performance of readership: with dance improvisation and speculative movement exercises, we will awaken a tactile gaze (a reading beyond symbols and straightforward meaning making), and we will practice dreaming as a possible way of reading, how might reading lead us to the dream, to dance, and to the unknown universe of someone else?
- The dancing with and within landscapes of paper
- The sharing of imagined narratives and their material manifestations (dances of the imprint, dances of the pencil, narrated dances)
Teacher
Dance teacher since 2004, Emilie Gallier is also choreographer, performer (POST Cie, www.post-cie.com), researcher(C-DaRE Coventry University, http://www.coventry.ac.uk/research/areas-of-research/centre-for-dance-research/) and external mentor (AHK Amsterdam, www.ahk.nl, ArtEZ Arnhem). Her choreographic productions, lectures, workshops, are presented in the Netherlands, the UK, and France. Since January 2016 PhD Candidate in Coventry, Emilie graduated from the Master of Choreography in Arnhem in 2012. She attended Transforme , choreographic residency led by Myriam Gourfink in France in 2008 (PRCC, Royaumont), and she learned Laban notation at the Conservatoire National de Paris in Paris in 2009-2010. Before that Emilie studied modern dance techniques, dance history, anatomy, and pedagogy in 2002-2003 at the RIDC School in Paris.
Please contact info@lakcursussen.nl if you have troubles registering for the courses. You can also give us a call at 071 527 2317 | 527 2314
Through registering you are agreeing to the terms and conditions of the LAK.