Arts and leisure - Dance
Urban Contemporary advanced
Tuesday from 19:15-20:30h
Teacher

Thu Hang Pham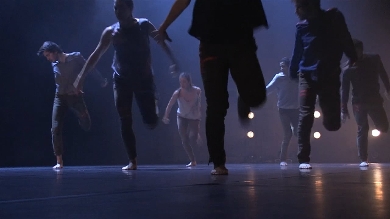 For Whom
For advanced dancers who are interested in learning Hiphop and Contemporary. Fast, short Hiphop movements combined with soft long Contemporary movements.

Content
In this course we focus on different elements from Hiphop and Contemporary, such as Floorwork, being grounded, musicality, dymanics, flow and lyrical movements as well as fast short movements. We also focus on developing muscle awareness and using the right muscles. During our choreography we're focussing on really embodying the dance and not just dancing it, but really telling a story. Dance is more than just coping movements and the aim in this course is to really embody the choreography.

Teacher
Thu Hang Pham (1992) has danced with the 5 o'clock class (Theatre School, Amsterdam), Peridance, Capezio Center (New York City and Kibbutz Contemporary Dance Center (Isreal). She has been educated in various styles, but found her big passion within the modern/contemporary dance. In her lessons she focusses on floorwork, being grounded, musicality, dymanics and muscle awareness while dancing.
Please contact info@lakcursussen.nl if you have troubles registering for the courses. You can also give us a call at 071 527 2317 | 527 2314
Through registering you are agreeing to the terms and conditions of the LAK.