Arts and leisure - Dance
Floor work (will be offered again later on in the year)
Tuesday from 17:30-19:00h
Teacher

Emilie Gallier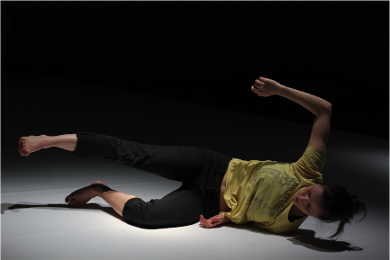 For whom
This class is not for complete beginners. For questions about your level and the class please contact emilie (emilie@post-cie.com)
Please note you can continue this class in November with Floor Work in Group Choreography
Content
In this course we will focus on our relationship with the floor. Using techniques of contemporary dance (inheriting from Marta Graham technique of the core, Doris Humphrey release technique, Steve Paxton's material for the spine), we will work on developing ease, flow and fluidity moving into and out of the floor. The classes include breathing exercises and spine work to prepare the body's joints to work efficiently with gravity. Participants will learn figures of Floorwork (spiral rolls, helix rolls, helicopter rolls, banana rolls) to develop their own vocabulary in this practice. Participants will work outside of the vertical alignment to experience the diagonal, cross-lateral, and horizontal while on the floor and standing.
Teacher
Dance teacher since 2004, Emilie Gallier is also choreographer, performer (POST Cie, www.post-cie.com), researcher(C-DaRE Coventry University, http://www.coventry.ac.uk/research/areas-of-research/centre-for-dance-research/) and external mentor (AHK Amsterdam, www.ahk.nl, ArtEZ Arnhem). Her choreographic productions, lectures, workshops, are presented in the Netherlands, the UK, and France. Since January 2016 PhD Candidate in Coventry, Emilie graduated from the Master of Choreography in Arnhem in 2012. She attended Transforme , choreographic residency led by Myriam Gourfink in France in 2008 (PRCC, Royaumont), and she learned Laban notation at the Conservatoire National de Paris in Paris in 2009-2010. Before that Emilie studied modern dance techniques, dance history, anatomy, and pedagogy in 2002-2003 at the RIDC School in Paris.
Please contact info@lakcursussen.nl if you have troubles registering for the courses. You can also give us a call at 071 527 2317 | 527 2314
Through registering you are agreeing to the terms and conditions of the LAK.