USA, Steven Liu
What's the situation like in The USA in these times of corona? How do our Leiden alumni cope with the restrictive measures in their country, the possible finding of a vaccine, medication to combat corona or how do they cope with working from home, with or without children? Read the story of Steven Liu, living in Santa Clara, Silicon Valley, Californie
Steven Liu
Steven Liu, Physics, 2002.
He currently works as a hardware process engineer at Apple.
"My name is Steven Liu, I graduated from Leiden University in 2009 with a M.Sc. degree in physics. After graduation I moved to the US to pursue a PhD degree in engineering at the University of Pennsylvania.
My wife and I have lived in Santa Clara, CA, the heart of the Silicon Valley of California since 2017. I currently work as a hardware process engineer at Apple while my wife is working at Visa.
About 2200 confirmed cases and 115 deaths in my county
This article was written on May 5, 2020. As we all know, the WHO officially declared COVID-19 as a pandemic on March 11. A few days later, on March 17, 2020, our county started enforcing coronavirus shelter-in-place rules, and the rest of the state of California followed the week after.
This is a relatively early and conservative move compared to the rest of the country and also for this reason, the COVID-19 cases here have been relatively low, especially considering areas like New York state that were hit much harder.
At the time of writing, there are about 2200 confirmed cases and 115 deaths in my county. These numbers are quite impressive for a population of about two million. The entire state of California has currently 55k confirmed cases with about 2.3k of deaths, while the total number in the US is about 1.2 million and almost 70k deaths.
The staying-at-home period
During the staying-at-home period, only essential businesses are operating, and residents are recommended to be outside only for essential errands, including grocery, pharmacy, doctors visit etc.
Slowly but surely more and more people have started wearing facial masks and some even gloves, this all in additional to the mandatory 6 ft social distancing. There have been instances that people ignored social distancing or wearing facial masks and were ticketed by police. For groceries, we do about half online and half physical shopping.
Apps like Amazon Fresh and Instacart have come in handy, although sometimes the delivery slots are hard to find. We also do food delivery minimum once a week. Most stores, if not all, require visitors to wear a facial mask to protect their personnel and visitors.

About once in 3 weeks we will go out to drive around and if possible, do some walk, and again, every time all with proper protection.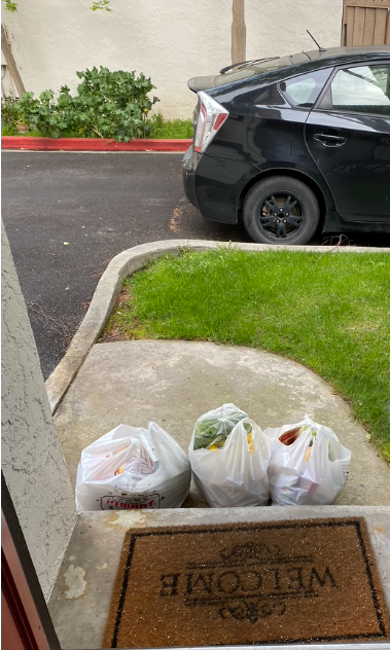 Gardening is booming
So how do we keep ourselves mentally and physically healthy when staying home?
We both do some moderate exercise at home, including training with dumbbells and a stepper, or even video games such as Just Dance. We also entertain ourselves by watching a lot of movies and shows on Amazon, Netflix, YouTube, or just some good old movies on Blu-Ray discs.
Almost every day we will call our family and friends to catch up, as we all realize during this time it's important to stay connected through social media.
Last but not least, I have really ramped up my gardening skills in my backyard. Together we spent a full weekend on building a small greenhouse, and expanded the plants and veggies in the garden. This way we feel more motivated to spend sometime outside and do some daily gardening when work is not too busy. Coincidentally there was an article on CNN yesterday reporting that gardening is booming during the time of shelter-in-place, local nurseries and home hardware stores are seeing spikes in plant and seed sales.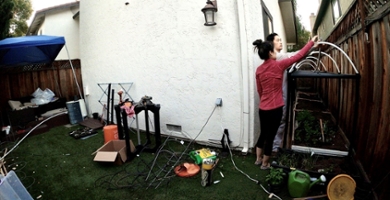 The calmness of the gardening can relieve some frustrations
Personally, the best part of getting my hands in the dirt, especially during shelter-in-place, is having the feeling that we can stay connected to nature, and it's been shown that the calmness of the gardening can relieve some frustrations resulting from the reduced social connection and the ongoing COVID-19 related news from the media.
Stay positive and motivated.
People are all greatly looking forward to reopening the economy and returning to normal life, but until it is recommended to do so by the local government, we all gotta stay positive and motivated."
Links
Coronavirus Updates City of Santa Clara
The human needs driving the rise in gardening, and how to start one (CNN)
Apple
06.05.2020