Switzerland, Melvin Spreij
How do our Leiden alumni cope with the restrictive measures in their country, the possible finding of a vaccine, medication to combat corona or how do they cope with working from home, with or without children? Read the story of Melvin Spreij, living in Geneva, Switzerland.
Melvin Spreij
Melvin Spreij, Civil Law & Business Law, 1988
He works as a counsellor at the World Trade Organization (WTO)
From Rome to Geneva
"I left The Netherlands in 2000 to join Gabriella, my wife, in Rome. For several years I worked for the Food and Agriculture Organization (FAO) of the United Nations, assisting developing countries in drafting food and natural resources legislation.
In 2004, we moved to Geneva where I work for the World Trade Organization (WTO) since 2006, heading a global partnership of international organizations that supports developing countries in benefiting from the global trading system.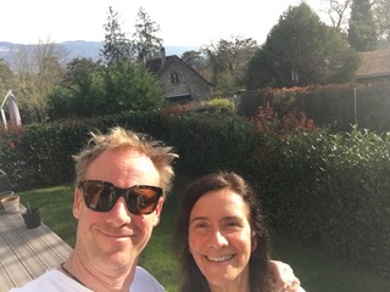 Overall, it's very "gezellig"
We're a family of four in semi-lockdown since 16 March, working and following school lessons from home.
The lockdown in Switzerland is not as rigid as in neighbouring France or Italy, and we often go out for walks and bike rides. Overall, it's very "gezellig". We've dusted off our Dutch shuffleboard, play card games and are advancing on our favourite Netflix series.
And there is time for more reading. I just finished the incredible story of the VOC ship "Batavia", which wrecked off the Western Australian coast in 1629, and about the mutiny that followed, which led to a massacre amongst its survivors (a replica of the ship can be visited today in Lelystad).
An "extraordinary" situation
Switzerland is among the countries hit hardest in Europe by the coronavirus compared to its population size (8.5 million), in particular the cantons Geneva, Ticino, Valais and Vaud.
On 16 March, the government described the situation as "extraordinary", which allowed the federal authorities to take over certain powers from the 26 cantons and impose measures such as bans on all private and public events.

Reportedly, the application of these legal provisions was a first for Switzerland. Among some of the major events cancelled this year are the Geneva International Motor Show, the Montreux Jazz Festival and the Locarno Film Festival. Switzerland's borders are closed and strictly controlled.

Earlier this week I heard that Geneva airport counts around 50-300 passengers a day, compared to 40,000-60,000 normally. Crazy stuff. When I write this story (Friday, 1 May), Switzerland's cases of COVID-19 stand at 29,310, with a death toll of 1,736.
No events with more than 1,000 people until the end of August.
That said, we are slowly beginning to emerge from the lockdown. The rate of new coronavirus cases has begun to slow over the Easter weekend, and with it the number of people admitted to hospitals. While supermarkets and pharmacies have remained open throughout the crisis, this week the government allowed certain businesses such as hairdressers and garden centers to re-open. If all goes well, a second phase begins on 11 May, with the re-opening of compulsory schools, other shops and restaurants.
However, events with more than 1,000 people, notably festivals and sporting events, will not be allowed until the end of August.

The government is calling on the population to spend their holidays in Switzerland, so we may go hiking in the mountains this summer. We just hope that we will also be able to visit Gabriella's parents in Sardinia who have been in total lockdown since 9 March.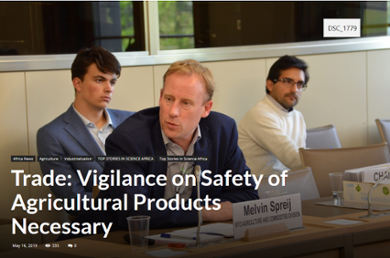 On Monday 11 May, I am also scheduled to return to the office.
Life will be different. Social distancing. Regular handwashing. No face-to-face meetings. No coffee breaks.

In just a matter of weeks COVID-19 had had a profound impact on all aspects of our life. And what will the world look like after COVID-19?
The WTO expects international trade to fall by between 13 and 32% in 2020, as production and consumption are scaled back across the globe. That said, governments should keep trade and markets open, and not resort to protectionism. Worldwide demand for medical products to fight the pandemic is unprecedented. All countries depend on international trade and global value chains to source these products. This is challenging considering disruptions to international transport, particularly air cargo, which often goes together with passenger travel.
Some governments have implemented trade restrictions on staple foods, which pose a direct threat to developing countries that rely on imports and can lead to higher food prices. We can see a growth in unemployment, poverty and hunger, especially in the poorest countries already in crisis.

One thing that we can learn from COVID-19 is that we need closer global cooperation and governance more than ever before."
Suggested reading:
Switzerland's news
Swiss info
World Trade Organization
The Standards and Trade Development Facility (STDF)
04.05.2020