Singapore, Irene van Beveren & Peter de Jong
What's the situation like in Singapore in these times of corona? How do our Leiden alumni cope with the restrictive measures in their country, the possible finding of a vaccine, medication to combat corona or how do they cope with working from home, with or without children? Read the story of Irene van Beveren & Peter de Jong.
Irene van Beveren & Peter de Jong
Irene van Beveren, Dutch language & literature, 1987
Currently Owner IC Content Management, Singapore
Peter de Jong, Dutch language & literature, 1987
Currently Director, Corporate Sales APAC at John Wiley & Sons, Singapore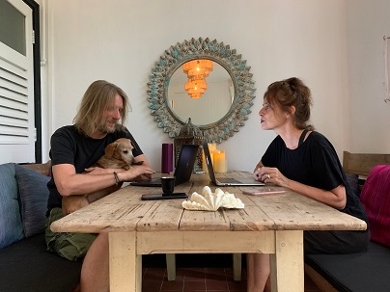 "We're a family of three and left Holland in 2007 for Peter's job opportunities in Boston and later in London. Since 2015 we live in Singapore, with our now 19 year old son who is in his final year of the IB programme. He has just been offered a conditional place at the Faculty of Humanities in Leiden.
We write this piece on Sunday, 26th of April. Singapore has been 'locked down' for almost three weeks now, silencing businesses, beaches, schools, restaurants, shopping malls, art galleries and construction sites. The government prefers to refer to the lockdown as a 'circuit breaker', stressing the desired outcome of the measures: to break the pattern of community spreading of the virus. The Ministry of Health has ramped up testing and to date close to 14,000 residents have been tested positive, and 12 people have died from the disease thus far. The measures are comparable with what we see in many other metropoles across the globe, but on the 'stricter' end of the spectrum. Stay inside and only go out when necessary, no gatherings outside your direct household, when you exercise do so alone and wear a face mask at all times.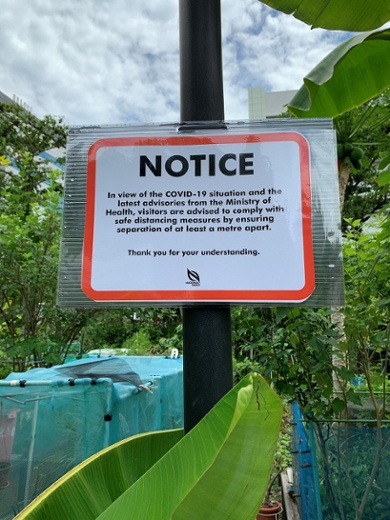 'Honey, I am home!'
Originally the measures were expected to be lifted in early May, but with the number of cases still close to a thousand per day, they will now continue until June 1st. Our work and social life has completely shifted to digital and we have created quiet places in the house for all three of us: the porch, the kitchen table and our home office are in permanent use during the working day. The 'Honey, I am home!' joke probably won't sound funny when these 8 weeks of isolation are over.
Peter is used to travel two out of four weeks in the region, and he is now meeting his colleagues and customers online where possible. His teams have adapted well, and his company puts the health, safety and sanity of their people and families first.
The biggest challenge is the virtual onboarding of new colleagues in India, Japan, China and Singapore – how to create a safe and trusted environment in your company whilst the outside world seems to be full of danger and uncertainty.
Irene has taken a break from work and now studies French. She was planning to visit family and to look for work in the Netherlands this summer, and to help our son finding a place to live in Leiden. That has all now been put on hold.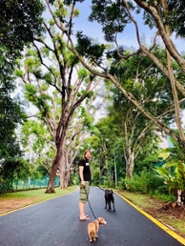 The measures bring our family together, but for our son it is tough. His plans to travel through Europe after he finishes school have been cancelled, he will get his IB diploma without an exam and without graduation parties. He is stuck with his parents trying to stay connected with friends on Snapchat, mastering the guitar and spending long evenings with us, playing cards, listening to music and trying to stay away from the 24/7 news stream.
'Nooit Meer Slapen' on Zoom
The toughest part for us is the new distance between Singapore and Holland. The idea to jump on a plane and to be with friends and family within 24 hours is gone and will probably be unrealistic for a while. We do compensate and call our mums and sisters on FaceTime or WhatsApp, but the distance feels to have quadrupled since the borders have closed and flights have been cancelled. Just this Friday Peter had his annual 'dinner' with 'Nooit Meer Slapen' his Leiden university fraternity. On Zoom only.
Obviously we are well aware that the challenges we are facing as a family are insignificant compared to the drama that unfolds for tens of thousands of people who work or end up in hospitals and care-homes every day."
Links Singapore & Corona
What you can and cannot do during the circuit breaker period
Singapore's migrant workers are suffering the brunt of the country's coronavirus outbreak
Singapore, 26.04.2020