United Kingdom: Nicolas Tubbs & Tsjitske Dotinga-Tubbs
How do our Leiden alumni cope with the restrictive measures in their country, the possible finding of a vaccine, medication to combat corona or how do they cope with working from home, with or without children? Read the story of Leiden alumni Nicolas Tubbs (2005, MSc Biodiversity & Sustainability) and Tsjitske Dotinga-Tubbs (2004, MSc Educational Studies) who live in a small town near Cambridge in the UK.
Leiden alumni Nicolas Tubbs (2005, MSc Biodiversity & Sustainability) and Tsjitske Dotinga-Tubbs (2004, MSc Educational Studies) live in a small town near Cambridge in the UK. Nicolas, who is Anglo-French, works for Fauna & Flora International as a Senior Programme Manager-Eastern Africa focusing on natural resources management and sustainability.

Tsjitske, who is Dutch, works part-time as an ESOL tutor for a Christian charity (Kings Arms Project Refugee Support) by teaching English to Syrian refugees but also gives Dutch tutoring online for CLL, (a Belgian language Centre). Tsjitske is also a blogger and stay-at-home mum to their four children (10, 8, 2 and 1-year-old).

Nicolas and Tsjitske met in Leiden whilst both finishing their Masters degrees. After living in the Netherlands for 7 years together, it was time for a new adventure and they moved to the UK eight years ago.
Staying home for 9 weeks
"After Brexit struck, we couldn't imagine things getting much worse in the UK for us as a family but then Covid-19 visited this British Island. Friday March the 20th was the last day the children went to school. Shops and sport facilities and schools closed and people were asked to work from home when possible.
Initially more than 80% of people were able to do so. At the moment, by the end of May only 41% of people are still working from home, the rest has been asked to go back to work.

The UK has been hard hit by COVID-19 and although the numbers are going down, the R-rate is still between 0.7 and 1.0. The United Kingdom has 257,154 confirmed cases on the day of writing (23/05/2020) and a 36,675 deaths and there is no end in sight, although the curve has flattened and the numbers are slowly coming down.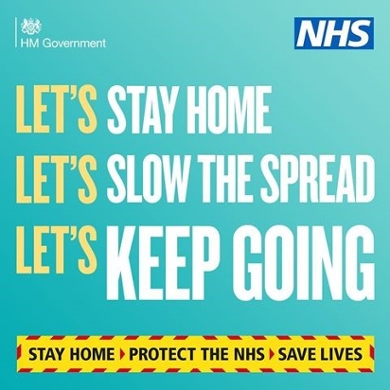 The UK imposed the lockdown much later than other European countries and has had to deal with the temporary loss of the Prime Minister Boris Johnson, who contracted the virus himself and had a near death experience in hospital. After he emerged from this ordeal the country started to take this pandemic more seriously. More people are wearing masks in shops and in public transport.
A message that has strongly resonated here on the British Isles is one of solidarity, "we are all in it together". We are being asked to stay at home and safe lives. This mantra is repeated everywhere you go, it's on all the TV channels in the corner of the screen, it pops up in NHS text messages you receive from the government and when on social media you will be inundated with this message. Stay at home. Save lives.
So we have. Both our jobs could be transferred to our house quite easily. Our home office is set up in the living room for Nicolas whilst Tsjitske is hot desking on the kitchen table. Working from home isn't an easy task it itself but homeschooling our eldest two children makes things a little more challenging, without forgetting our youngest two being around as well since they are real tinkers. One headset has already been destroyed in the process and we lost count of the numerous times the children joined us in a conference call.

The biggest change for us is that Nicolas isn't able to do any international travel. Usually travelling around 5-6 times a year to remote places including South Sudan is now impossible whether it be now or in the months to come.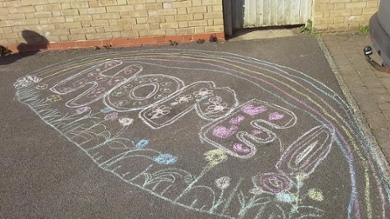 Online learning
The first 8 weeks of lockdown we were not allowed to leave the house more than once a day for a daily exercise around our house. People were advised to only go shopping once a week and this had to be done by one member of the household.
All sport lessons stopped as the facilities were closed, and also churches and other community based activities were postponed until further notice.
For us this meant having church meetings online and relying on Zoom for pretty much everything, including piano lessons. Tsjitske's experience as a primary school teacher came in handy. The lockdown has been a good opportunity for us to teach the children more Dutch and French language and culture, although we're sure the children will only appreciate this in retrospect. Now, after almost 10 weeks of homeschooling we have found a good routine whereby we quite literally pass the baby to one another across the hallway so the other can jump on a call.
Bang the pots and pans
Quite early in the lockdown social initiatives started to spring up such as the now renowned clap for your carers every Thursday evening at 8 pm (this was set up by a Dutch woman in London funnily enough).
The clapping for your doctors and nurses is so religiously followed that Tsjitske was even asked in the middle of her weekly online Pilates lesson to take a break at 8 pm to go and bang the pots and pans outside the front door and then to come back to class a few minutes later. This phenomenon is not appreciated by all but has become a national weekly highlight for many people.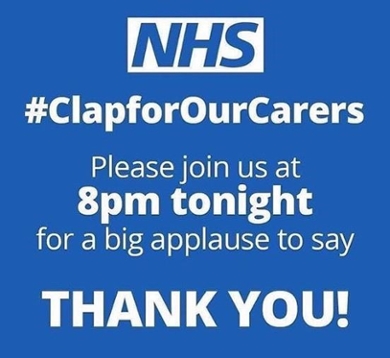 Rainbows galore
All over the nation the rainbow has been a sign of hope and children have displayed them in the windows to brighten up the streets for people on their daily walks. We would see many mothers with children doing their 'rainbow hunts' around the housing estate and stopping to point out the rainbows. Children have been tying ribbons at the primary school gate to tell their teachers they are missing them or have placed coloured pebbles next to a local playground to create a giant snake (see link below). This even made the BBC news.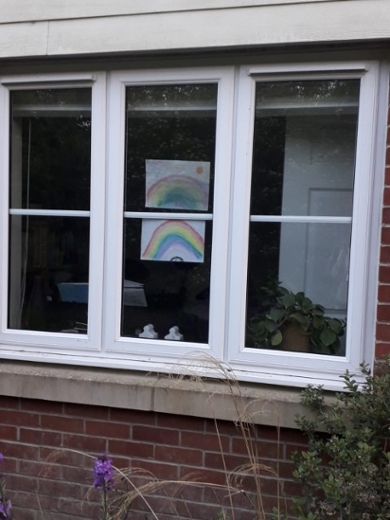 Schools are starting to talk about opening up as of the first of June. The learning will be in bubbles of maximum 15 children per classroom and the government's guidelines are very strict when it comes to social distancing. Children are required to wash their hands upon arrival and several times during the day, they will not be allowed to play with other children, and will still need to keep a 2-meter distance from their peers and their teacher within their 'bubble'.
Not all councils in the UK are keen on the idea and some councils are openly refusing to open up their local schools for fear of the safety of the children and their families.
No mixing
Almost ten weeks in, the UK is very slowly emerging from this lockdown. We are now allowed to have a picnic in the park, go for a drive with the car, go outside as often as we want and shop at the garden Centre.
We are still not allowed however to meet up with friends and family other than meeting up with one other person outside our household whilst strictly adhering to the 2-meter distance rule. Children are not allowed to play with other children, not even outside, or as they call it 'no mixing' with other households. This has proven to be very hard on the children as they miss their friends and Zoom chats aren't the same for our eldest two, compared to playing and giggling face to face.

We are hoping that the R-rate will go down very soon and we will be able to spend our summer holidays in the Netherlands and France but at the moment only essential travel is allowed and we cannot leave to go to 'the continent' to visit our friends and families. But hopefully this will soon change and life can have a feel of normality to it again. We will definitely hugely appreciate being allowed to meet people face to face again.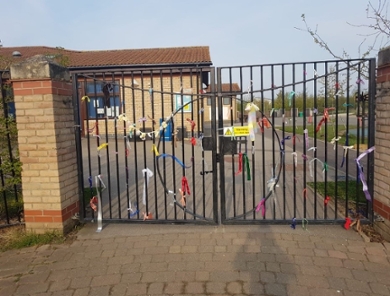 Links
Fauna & Flora International (FFI): impact of COVID -19
Coronavirus: St Neots 'rock snake' spreads lockdown joy
Clap for carers: applauding the NHS – in pictures
Tsjitske's blog
25.05.2020