Australia, Martijn & Pascalle Bosboom
How do our Leiden alumni cope with the restrictive measures in their country, the possible finding of a vaccine, medication to combat corona or how do they cope with working from home, with or without children? Read the story of Martijn & Pascalle Bosboom, living in Perth, Australia.
Martijn & Pascalle Bosboom - Van der Hurk
Martijn Bosboom, Law 1985, currently General Counsel & Company Secretary at Perseus Mining Limited in Perth, Australia
Pascalle Bosboom - Van der Hurk, Psychology 1987, currently Clinical Neuropsychologist and Owner/Director at Mindlink Psychology in Perth, Australia.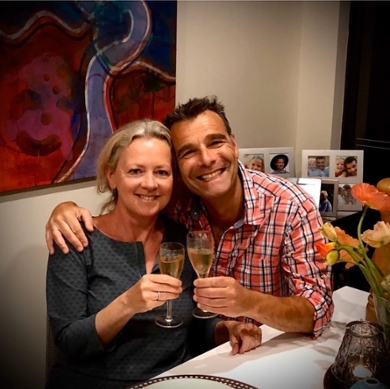 Isolation in the most isolated city in the world
"Perth, the State capital city of Western Australia, has 2.2 million people living on an area of 6,200 km2 - a bit smaller than the "Randstad" and about 5 times the size of New York City. The remaining 500,000 people who live in Western Australia are spread over a few regional towns on an area that would easily fit Spain, Germany and France within its borders.
The closest Australian city Adelaide is over 2,000 kms away; the closest international city is Jakarta, at over 3,000 kms. Yes, we are living in the most isolated city in the world, and we have space.
3 May: 19 active cases, 9 died and 523 have recovered
There has been remarkably little community spread of the virus in Western Australia, almost all cases were people coming back from overseas or their direct family.
As at 3 May there are only 19 active cases and 523 have recovered. The death toll is 9, all elderly. We haven't had any new cases for the last 4 days and only 3 new cases the last 10 days.

The isolation measures that were put in place were very similar to those in The Netherlands, but put in place about two weeks later. However, at the time the measures were implemented the spread here was much less than in The Netherlands.
Federer's selfie with a quokka
One of the biggest problems in Perth has been the cruise ships docking into the port of Fremantle with lots of cases on board. Where needed, they were admitted to our hospitals and others were put in a 14-day quarantine in luxury hotels and then flown back to their countries of origin.
Australians embarking from the cruise ships were transferred to Rottnest Island, the holiday destination that became world famous when Federer took a selfie with a quokka, for 14 days quarantine, which was commented as "We won the raffle here, it's right on the beach, the view is gorgeous. It sounds wonderful, but it's still a quarantine."
The easing of measures started about a week ago: gatherings of 10 people were now allowed (as opposed to 2) with appropriate physical distancing. As other countries would have done in similar fashion to show how much one and a half meter actually is, Australia has used its national icon: one and a half meter is about the size of one kangaroo.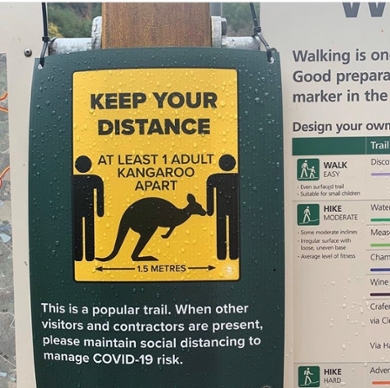 The surfers kept going in, be it with kangaroo size space between them
So, what is isolation like in the most isolated city in the world? Like most of the world, a lot of staff of restaurants, cafés, gyms, shops, physiotherapists etc. have been laid off or stood down. People were asked not to leave their homes unless it was essential.

Work was considered essential and businesses were given the option to keep their offices open or let people work from home. Some did and some didn't. But if you still have a job, the lockdown is pretty relaxed – the space, the beaches, the clear blue skies and balmy autumn days of 24C make it all less challenging. People were still allowed to go for a run, walk the dog, have a private personal trainer session in the park, etc. Even the surfers kept going in, be it with kangaroo size space between them. Driveway drinks, where people would sit at their own driveway to have a drink with the neighbours, became a thing.
Green and orange zones
At Martijn's work at Perseus Mining, a company with a small head office in Perth and gold mines in Ghana and Ivory Coast, staff was encouraged to work from home. Given the location of the mines, online meetings with people at different locations was not something new and work continued pretty much as usual. A bit boring sometimes but with a view of the pool in front and the wine fridge to the right of the desk, rewards – and temptations – were plentiful.
West-Africa was completely different. Fortunately, the spread of the virus started a lot later in Ghana and Ivory Coast and governments took action early. The mines dusted off the Ebola crisis management plans and prepared for operation in island mode, which took about a week to implement.
"Island mode" means that all people working in the processing plant and offices – expats and locals – move to the accommodation camp and live on site in a so-called isolated green zone. This means the local staff do not go home at night. Anyone who cannot do their work in isolation from the outside world, lives and works in the orange zone. Anyone going into the green zone has to undergo a 14-day quarantine before allowed to move in. This model has been very successful so far and we have not had any cases on site.
As the regional towns in Western Australia have very limited ICU capacity, the State has been split in regions (with road blocks) and non-essential travel is prohibited. Police clearance is required to travel between regions. This means no travel out of Perth.

Fortunately, with 150 km of pristine white beaches overlooking the Indian Ocean we have plenty of space for physical distancing. Unlike Sydney where iconic beaches like Bondi had to be closed due to overcrowding, the Perth beaches have remained open. However, the streets were a lot more quiet than usual and you might have seen the footage of a kangaroo hopping on the streets in one of our major cities.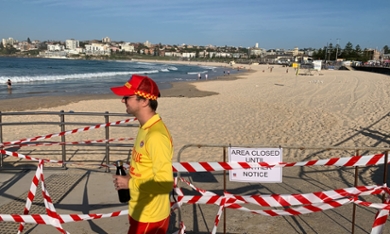 Wearing the top part of the schooluniform
The schools closed towards the end of March. Some schools – including our 16-year-old son's – set up remote learning facilities in a matter of days. Classes were held as normal via Microsoft Teams, with the usual lunch breaks. The kids even had to wear their school informs, be it just the top part. The schools reopened a week ago.
"Flying doctors service for psychologists"
Pascalle's work was a little bit more difficult to do remotely. She has a private psychology practice, MindLink Psychology, together with another Leiden 'alumna', Mariette Visser, and an Australian business partner.
They usually also offer services throughout Western Australia, a bit like a flying doctors service for psychologists with pop-up clinics in remote areas. Some services are now offered through telehealth but this is not possible for all services, for example for medicolegal cases where neuropsychological assessments are used in court cases of people who suffered a brain injury due to a car accident or when people are tested to see whether they are fit to stand trial. Carrying out these tests remotely, in an 'uncontrolled' environment, makes any outcome challengeable in court.

So, Pascalle has been going to the practice regularly to see patients, be it with all sort of safety measures to avoid any virus spread risk. She has also been part of a national workgroup to draft telehealth guidelines for neuropsychological services.
Borders will remain closed for many months to come.
With Martijn's office opening again on 4 May, our son back at school and Pascalle continuing to work in the practice, life will be almost back to normal. Restaurants, bars and most shops are expected to reopen soon with distancing measures to be put in place.
However, the boarders of Western Australia and the whole of Australia will remain closed for many months to come. Containment was the strategy to allow controlled community spread. We are almost a victim of our own success now with the virus in WA almost eradicated. However, with winter coming and the inevitability of new cases arriving from overseas, this might not be the last lockdown we will see. Having said that, we are used to isolation in one shape or form and Perth is certainly one of the best places in the world to be isolated in.
Cheers from Perth and stay well everyone!"
Links
Coronavirus (COVID-19) in Australia
Perseus Mining Limited
MindLink Psychology caters for all age groups
05-05-2020