Kunst en vrije tijd - Toneel en presentatie
Physical Theater | English spoken
Thursday from 17:30-19:30 h
Docent

Marina Raat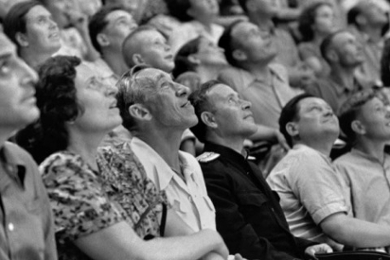 For whom
For those who would like to enjoy the stage and find their authenticity as an actor.
Content
In this course you will learn to stand on stage with full conviction. You will act in improvisation exercises, using a combination of fun, spontaneity and technical skills. You will discover how to play scenes in which body and text come together in a natural way and therefore fascinate and move the audience. You will also discover your own style as a physical actor and experience how group improvisations on stage are enhanced by this individual way of acting. The classes are all about using the space theatrically, listening to your first physical impulses, acting fluently together as a group and making action/reaction/internalization part of your play. In addition, you will be introduced to special theatre masks in preparation for playing characters.

The last class of this course is a 4-hour class, held on the 14th of May. A small audience (friends and/or family) can attend the last part of the evening to watch you play in a variety of the most enjoyable improvisation and mask exercises from the course.

Teacher
Marina Raat is a certified first-degree Drama Teacher. She obtained her degree at the University of the Arts (HKU) in Utrecht, the Netherlands. She specialized herself in Physical Acting and Improvisation by studying at the California State University in Los Angeles and at de Kleine Academie In Brussels (pedagogy Lecoq). She has been working as an independent theatre teacher for various art and educational institutions ever since. She currently works as a drama teacher at the Felisenum Gymnasium in Velsen-Zuid, she's connected to the Amsterdam University of Applied Sciences as a drama-trainer and she is a mentor at the Maastricht Theater Academy, Master Program. Marina is also founder and artistic director of the Jeetje Mila Foundation.

Lukt het niet om online in te schrijven? Neem dan contact op met LAKcursusbureau via info@lakcursussen.nl of via tel: 071 - 5272314 | 5272317
Door je in te schrijven voor een LAK cursus, ga je automatisch akkoord met de algemene voorwaarden.