Kunst en vrije tijd - Dans
Qualities of Movement | English spoken
Dinsdag van 19:00-20:30 uur (LET OP: verplaatst van vrijdag- naar dinsdagavond!)
Docent

Emilie Gallier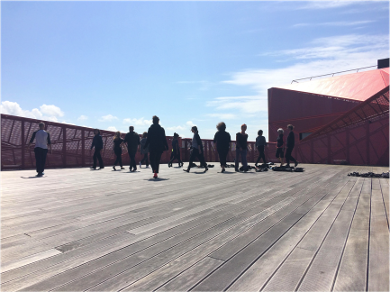 For whom
Experience of dance is very welcome but not required, you might come from a different field. If you need more detailed information please contactemilie
Content
These four sessions of dance improvisation are inspired by Laban's theory of effort which looks at the movement's relation to weight, to space, to time, and to flow. Participants will expand their practice of movement and form a vocabulary of various qualities. What would be a heavy and direct movement, a sudden and light movement, a discontinuous indirect breath? Through exercises of breath, walks, running practices, and guided improvisation, participants will tickle their habits and find out new modes of perception and of actions through the lens of qualities.
Teacher
Dance teacher since 2004, Emilie Gallier is also choreographer, performer (POST Cie, www.post-cie.com), researcher(C-DaRE Coventry University, http://www.coventry.ac.uk/research/areas-of-research/centre-for-dance-research/) and external mentor (AHK Amsterdam, www.ahk.nl, ArtEZ Arnhem). Her choreographic productions, lectures, workshops, are presented in the Netherlands, the UK, and France. Since January 2016 PhD Candidate in Coventry, Emilie graduated from the Master of Choreography in Arnhem in 2012. She attended Transforme , choreographic residency led by Myriam Gourfink in France in 2008 (PRCC, Royaumont), and she learned Laban notation at the Conservatoire National de Paris in Paris in 2009-2010. Before that Emilie studied modern dance techniques, dance history, anatomy, and pedagogy in 2002-2003 at the RIDC School in Paris.
Lukt het niet om online in te schrijven? Neem dan contact op met LAKcursusbureau via info@lakcursussen.nl of via tel: 071 - 5272314 | 5272317
Door je in te schrijven voor een LAK cursus, ga je automatisch akkoord met de algemene voorwaarden.