Kunst en vrije tijd - Dans
Hilal Dance: Modern Egyptian
Woensdag van 13:00-14:15 uur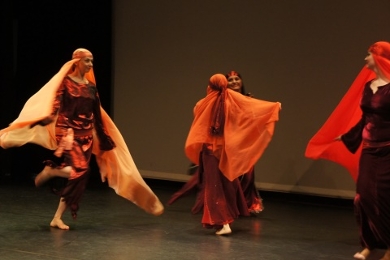 Voor wie
Alle niveaus welkom

Inhoud
In this course, Laura will use the Hilal dance system on traditional and integrated Egyptian / Middle Eastern musical genres. The course is a progression from traditional egyptian to HILAL dance.
Hilal dance is the art-dance based on the creative, theatrical and educational work of avant-garde artist Suraya Hilal.
It is the contemporised and universal dance form based on origins and roots that come from Africa and the Middle East.
Hilal dance is founded on a complete and versatile holistic system of movement that resonates on many levels and traverses cultural boundaries. The movements are organic and naturally based developing connectivity and integration of the whole body. The breath-based bodywork promotes fluidity, strength and inner power. Hilal Dance is a joyful discipline that enhances ones creative expression and musicality leading to a sense of vitality and ease in mind and body.
The course is open for all levels, men and women, new to dance or more experienced. An enrichment for those who come from Egyptian Oriental dances as well as other dance forms and that are interested in enhancing fluidity and new patterns of movement.
Teacher
Laura discovered Egyptian dance in London in 1986 and became a dancer in Suraya Hilal's touring Company with dancers and musicians in the years 1990/1992.
Since then Laura has been teaching , performing, researching on this dance and developing projects of her own in dance schools and cultural centres. Laura has been committing to the study of Hilal dance since 2016. For Laura , Hilal dance embraces tradition and modernity in a unique way that opens endless creative possibilities. As a dancer, it allows her to express the power and beauty of tradition in its essential form and at the same time, it offers tools to stretch the dance beyond.
In addition, Laura is following a teacher training education in Do-In yoga.
Lukt het niet om online in te schrijven? Neem dan contact op met LAKcursusbureau via info@lakcursussen.nl of via tel: 071 - 5272314 | 5272317
Door je in te schrijven voor een LAK cursus, ga je automatisch akkoord met de algemene voorwaarden.

Interview with Suraya Hilal: