Lezing
The European Data Protection Supervisor about personal data protection in Europe
Datum

dinsdag 11 februari 2020

Tijd

Locatie

Zaal

A1.44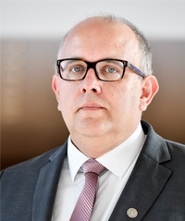 European Data Protection Supervisor (EDPS), Wojciech Wiewiorowski, will visit Leiden Law School to give a lecture about facial recognition systems and personal data protection in Europe.
Mr. Wiewiorowski was appointed on this position on 5 December 2019. Before this appointment, he served as Assistant European Data Protection Supervisor from 2014 to 2019. He was also Vice-Chair of the Working Party Article 29 Group.
The lecture - organized by the initiative of the students of the Advanced LL.M. Law and Digital Technologies - will be held on February 11th (Tuesday) in Lorentzzaal (A.1.44) at the KOG building of the Leiden Law School from 18:30 – 19:30.
Attendance is free, no registration required.