Studievoorlichting
Meeloopavond ILLP
Datum

6 november 2017

Tijd

Bezoekadres

Zaal

C104
Information Evening
Ben je een (internationale) masterstudent op zoek naar een uitdaging? Wil je meer weten over leiderschap en je persoonlijke leiderschapsstijl? Bezoek onze meeloopavond op 6 november en ontdek of het International Leiden Leadership Programme (ILLP) iets voor jou zou kunnen zijn.
Tijdens deze avond krijg je meer informatie over het ILLP van docenten en alumni van het programma. Ook zijn er proeflessen waaraan je kunt deelnemen.
Programma
Maandag 6 November, 17:30 – 20:00 uur
17:30 – 17:45 Deuren open, koffie en thee
17:45 – 18:05 Introductie International Leiden Leadership Programme
18:05 – 18:35 Proeftraining in leadership skills
18:35 – 18:45 Student presentatie ILLP
18:45 – 19:00 Vragen
19:00 – 19:30 Proefseminar met burgemeester Henri Lenferink
19.30 – 20:00 Borrel en ruimte voor meer vragen
Voertaal: Engels
Meld je aan via het online inschrijfformulier.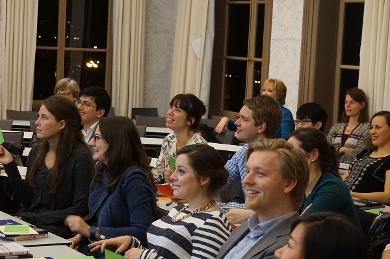 International Leiden Leadership Programme
The International Leiden Leadership Programme (ILLP) is a 5 EC honours programme for talented and ambitious master's students at Leiden University and Delft University of Technology. In the ILLP you will learn about leadership and discover and develop your personal leadership style. You will be taught in a small interdisciplinary class of international students and you will receive feedback and guidance from an experienced coach.
The programme is aimed at international students, but Dutch students are also welcome to apply.
International Leiden Leadership Programme