Lezing
Gravensteenlezing | The Story of What Didn't Happen: Global Literature Among the Interdisciplines
Datum

vrijdag 11 december 2015

Tijd

Locatie

Gravensteen
Pieterskerkhof 6
Leiden
We are pleased to announce that Anthony Alessandrini (English, CUNY) will deliver the December Gravensteen Lecture. All are welcome.
The story of what didn't happen: Global Literature Among the Interdisciplines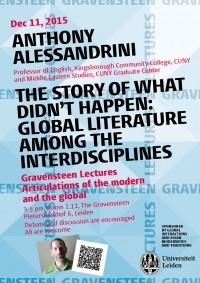 What is the role of the literary in global interdisciplinary work? I will use readings of novels by Salman Rushdie, Orhan Pamuk, and Ruth Ozeki, alongside consideration of interdisciplinary work by Lisa Lowe and Keith Feldman, to suggest some productive contributions that literary and cultural criticism might make to intellectual and political work that aims to be both global and interdisciplinary. This means, in part, doing a more effective job of bringing together aesthetic and political questions—indeed, seeing aesthetic questions as political questions, and vice versa. In other words, perhaps what the literary offers is not simply a mode for retrieving information about what exists (so asking a novel to teach us about the "realities" of India or Turkey or "the Islamic world," or even about globalization itself, is not really the point), but rather a mode that opens up other sorts of imaginative possibilities—the story of what hasn't happened, or what hasn't happened yet.

Chair: Tsolin Nalbantian (LIAS, SMES)
Discussant: Mark Westmoreland (CA-DS, Visual Anthropology)
Speaker bio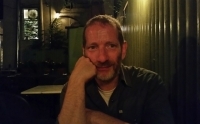 Anthony Alessandrini is Professor of English at Kingsborough Community College-City University of New York and teaches in the MA Program in Middle Eastern Studies at The Graduate Center of The City University of New York, where he is also a member of the Committee on Globalization and Social Change. He is the author of Frantz Fanon and the Future of Cultural Politics: Finding Something Different; the editor of Frantz Fanon: Critical Perspectives; and the co-editor of "Resistance Everywhere": The Gezi Protests and Dissident Visions of Turkey. He is a Co-Editor of Jadaliyya E-Zine and contributes regular podcasts to Status Audio Journal.